>> Sunday, April 29, 2007
Before coming to Ireland, I have never made a quesadilla. I watched my housemate Bonnie make one for dinner, and I saw how easy it was. I put a different filling into mine, but it came out just as delicious. I usually make them with sour cream, but since I couldn't find any at the store, I substituted salsa.


Chicken Salsa Quesadillas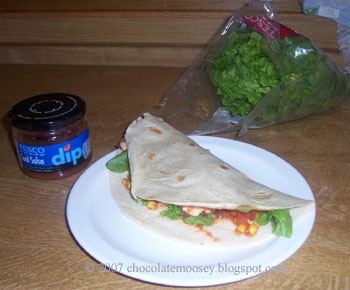 1/4 lb. boneless, skinless chicken breast
1/2 cup frozen corn kernals
1 cup salsa
Lettuce
2 flour tortillas
1. Fry chicken in oil in skillet until no longer pink. Drain oil.
2. In a separate pan, heat corn until warm (make sure you heat the corn in water!). Drain corn. Add salsa and chicken; stir.
3. Put tortilla in skillet. Add lettuce to half of the tortilla; top with salsa mix. Fold over remaining tortilla. Heat for a few minutes; flip. Heat for a few more minutes.
Makes 2 quesadillas (unless your tortillas are small).
Recipe source: ME! :D